Recently I asked this question of my social media network "Do you sometimes "ask Twitter" instead of "Googling for what you are looking for?" Yes, I see both the irony and the lack of scientific method in asking this question of the people who follow me on Twitter. Regardless the responses are rather telling. Let's start with those and then move into some patented Jim Raffel commentary and analysis of the issue.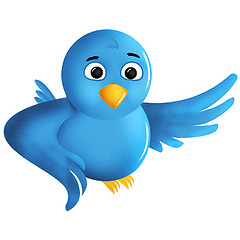 @Einley "More than sometimes"
@julz156 "always!"
@deziner "all the time :)"
@sharifrenno "all the time@ I feel you get more qualified responses than w/ a search engine. Twitter was an amazing resource 4 my trip this wknd!"
Tribal Knowledge. I think Sharif's response is most telling and provides insight into why someone would be more inclined to ask Twitter than Google. Sharif Spent a weekend in Lexington Kentucky and utilized his followers to track down a nice bike ride. Google would find you a bike ride. Would it come with a personalized recommendation? While the answer is yes, to some extent, the engaged answer of a real person could carry more weight for me.
Google. I asked the same question of Google and got the following response: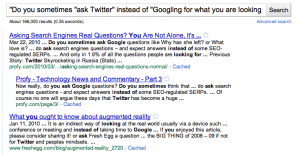 None of the first three links really answered my question. At least not without reading into the articles and even then, not so much. When I asked my followers I had four solid answers within minutes and the seed of an idea for this post.
There's a time and place for both. In my opinion asking your followers is more appropriate for tracking down nice bike trails, looking for a great restaurant, and anything else where the opinions of humans matter. On the other hand, "Googling it" is awesome for a map, a mathematical solution, a grammar answer, or anything with a factual basis.
How do you utilize Google and your social media network to find answers to your questions?