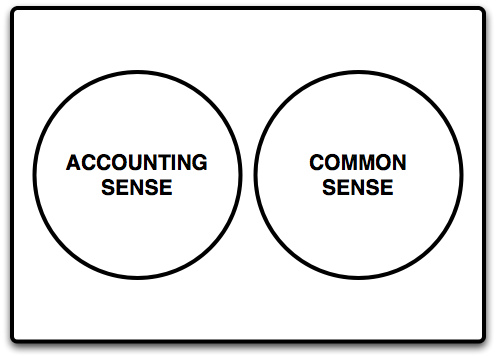 One of the things you either learn in business school or in the school of hard knocks is that a business has two kinds of costs: fixed and variable. At least in the short run, that is true. In the long run, a fixed cost can become variable and a variable cost can become fixed.
Fixed and Variable Costs
When you start your business, you'll have some fixed costs like a cell phone, internet service, or perhaps rent for an office. You may have a small loan that was utilized to purchase business equipment. The payments on that loan are a fixed cost. None of these is easy to decrease in the short run; so we refer to them as fixed costs. Yes, you can cancel your phone contract at the end of the contract term and change to a less costly one. So, even those costs we think of as fixed can be variable in the long run.
On the variable side, you will have trips to Starbucks to meet with clients. Yes, you can get a $5 foo-foo drink or you could get $1.50 Tall(that's a small anywhere else) Pikes Place Roast. That $3.50 differential is a variable cost that you can easily control in the short run. You might also use contract employees to help you with projects. You only pay these folks when they are working on a project for you. A hired employee on the other hand you pay even if there is no work for them. See how in the short term the contractor is a variable cost and the hired employee is a fixed cost?
The Borrow it, rent it, lease it, buy it dilemma
Back when I was earning an MBA one of my professors taught us this lesson which I have kept with me for almost two decades. Let's say you need to do some design work using Adobe Creative Suite. You don't own the correct version. Your business is new so buying the almost $2,000 license is an option that will put you in debt adding to your fixed costs.
Borrow it. Odds are a friend in the design community will let you borrow a machine for a few hours to do the work letting you defer the cost for a bit longer. This is the ultimate in variable cost – free. I took advantage of this one often in the early years and still do. Just be prepared to return the favor.
Rent it. Head over to FedexOffice and see if their computers have the right version and rent the few hours of time you need. Again, you are minimize the immediate out of pocket cost. Hang onto as much cash as you can. Great advice at anytime in the business life cycle. Critical advice in the startup phase.
Lease it. Often times leasing offers financial advantages that you should discuss with your tax professional. Also, many business leases do not tie up your personal credit. Instead of coming up with the full $2,000 today you pay a small portion each month with a pre-determined buyout cost at the end.
Buy it. I avoid this choice at all cost. We used to buy and run our own servers. Lots of cash outlay at one time and then all the ownership and maintenance headaches that go along with it. Now, we just lease our computer time.
See how the borrow, rent, lease, buy question can help you control both variable and fixed costs in both the short run and the long run? Asking this question has helped me guide the financial course of ColorMetrix for a decade and half so far.