Yesterday Scott Stratten made a comment during his #unGeeked presentation, he got on Twitter to meet other awesome business people.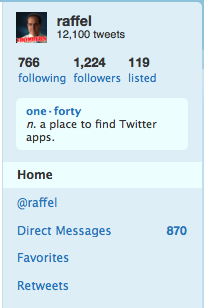 Catch that? The guy with forty some thousand followers on Twitter did not get on to sell you something. He got on to network. I got on Twitter for a different reason but networking with other awesome business people is why I'm there now.
A quick story…
Over sixteen years I've built a big database. When times are good all I do is add to the database and kind of ignore it. I don't recommend this action. Now that we have had a few rough years in the printing industry I am mining the database.
I dug up a small list of customers who have left us over the last two years. I started thinking about a marketing campaign to bring them back. At a Milwaukee area tweetup I discussed the idea with @Streetzapizza. Scott provided a few ideas that got the campaign started.
The campaign is multi-channel. First a piece of highly personalized 4/color direct mail. Then, an email. I may also follow this up with phone calls. Without the phone calls I have three paying customers back. Thanks Scott for the idea that got this rolling. Thanks Twitter for providing the conduit that allowed us to meet.
Digging deeper into the results. Our industry is in transition. The information in this database was no more than two years old and fully 25% of the contacts are no longer there or the company is *poof* gone. So, now my database is smaller BUT it's far more relevant. Again, thanks Scott for the idea that got me rolling. I have a cleaner database in part because of you.
Wait, I thought this was a post about Twitter? Nope. It's a post about networking with humans. Taking, engaging and learning. Twitter is just a tool. Being excited about Twitter is like being excited about the telephone because it's a telephone. Now, if you are excited about the telephone because it allows you to reach out to someone across the country or around the world then I'm with you.
So, is it about the tools and the technology or about what you do with them? You've got my answer above. What's yours?