The most visited post on JimRaffel.com in 2007 is #16 written October 2005 and addressing metamerism. Because of the popularity of this post I have decided to revisit the topic. I will start with some basic terminology and definitions. Then, I am going to present a real world example we are dealing with right now at ColorMetrix.
Definitions: First, metamerism requires a pair of objects. The two objects are often referred to as a metameric pair. In order to be considered metameric the pair must; match under at least one combination of illuminant and observer; not match under at least one combination of illuminant and observer; and have different spectral response curves.
Metramerism Tests: Post #16 shows an example of the GATF REHM indicator used for visual assessment of light sources. This is also an excellent of example of a visual test for metamerism. The two samples may also be measured by a spectrophotometer, and then an instrument test for metamerism can be performed. If the two samples exhibit a small Delta E under one illuminant observer combination, but have different spectral curves that cross at least three (3) times they are metameric.
Our ProofPass.com system was recently used to measure two samples. Below I have provided the L*C*h* values of a 'Red' swatch measured on a hard copy proof and then reproduced and measured on an LCD monitor.
| | | |
| --- | --- | --- |
| | Hard copy | Monitor |
| L* | 40.56 | 43.02 |
| C* | 60.85 | 61.31 |
| h* | 28.44 | 27.9 |
The CMC(2:1) Delta E of the above two samples is 1.34 in a D50/2 degree environment.
Now, take a look at the spectral reflectance and emission curves of the two swatches. (Library Reading = Hard copy and Sample Reading = Monitor)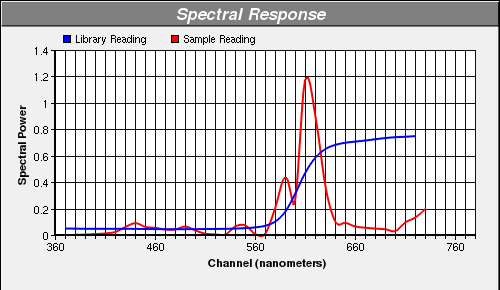 Again the instrument test for metamerism states that if the spectral curves differ, and cross each other at least three times, then the objects are metameric. The curves look different and I count at least 10 crosses.
As long as the physical sample is viewed in a proper viewing booth, and the monitor continues to be calibrated and also viewed in proper conditions, the metamerism effects of hard copy vs. monitor proofing above should not be a problem. My concerns about this type of metamerism extend to placing a package on a retail shelf which is seldom a D50/2 degree environment.