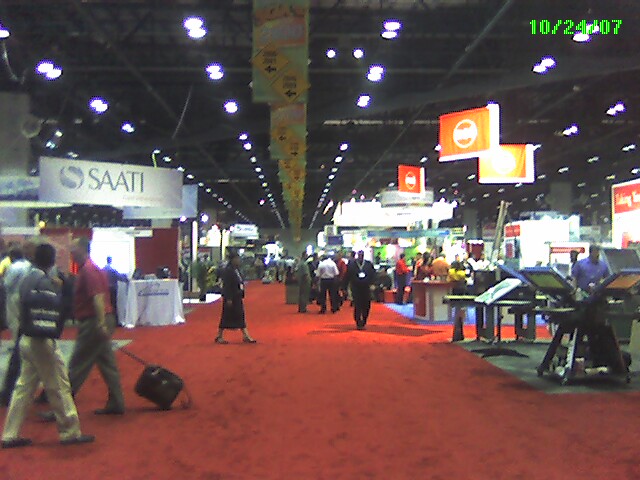 First, some general observations about the show.  While screen printing is still a very large part of the SGIA show, you do have to look a bit harder in between all the digital printing booths from the likes of Canon, Epson, HP and more to find screen printing products.  I am a new comer to the SGIA party, but had a general feeling that the show floor traffic was good.  Also, as with GraphExpo last month the quality of attendees seems high (the decision makers are here).
Use of color measurement technology is growing in the specialty graphic market.  I ran into Paul Foster of RIPware Limited displaying the ScreenReader which can be used for measuring the screen printing stencil.  For now it appears to be the only device in the world that can do so.  This device will make the linearization process for direct to screen machines much easier.  Also, when measuring a 50% patch on finished work it is nice to know that patch started as a 50% patch on the screen.
At the Nazdar Consulting Services booth I was introduced to their new CATZper (Color Approval and Tolerance by Perception) program.  The CATZper program allows for the physical output of visual reference and tolerance guides.  This could be a single spot color or an actual critical image.  The user is able to define the +/- color deviation allowed and that deviation can be different for each L*a*b* axis and direction.  Cool Stuff!
Both Epson and Canon have new printers on display.  At Epson the 11880 (Epson's first 64 inch machine) is being shown as well as samples of their new back lit media product.  Using the 11880 a 64 inch wide backlit display can be printed and is ready to go.  At Canon the new 8 iPF8000S color printer announced and introduced at GraphExpo appears to be marking Canon's return to the color proofing market.  Some folks I talked to at the show feel that technology changes to the printer make it a good potential choice for color proofing.