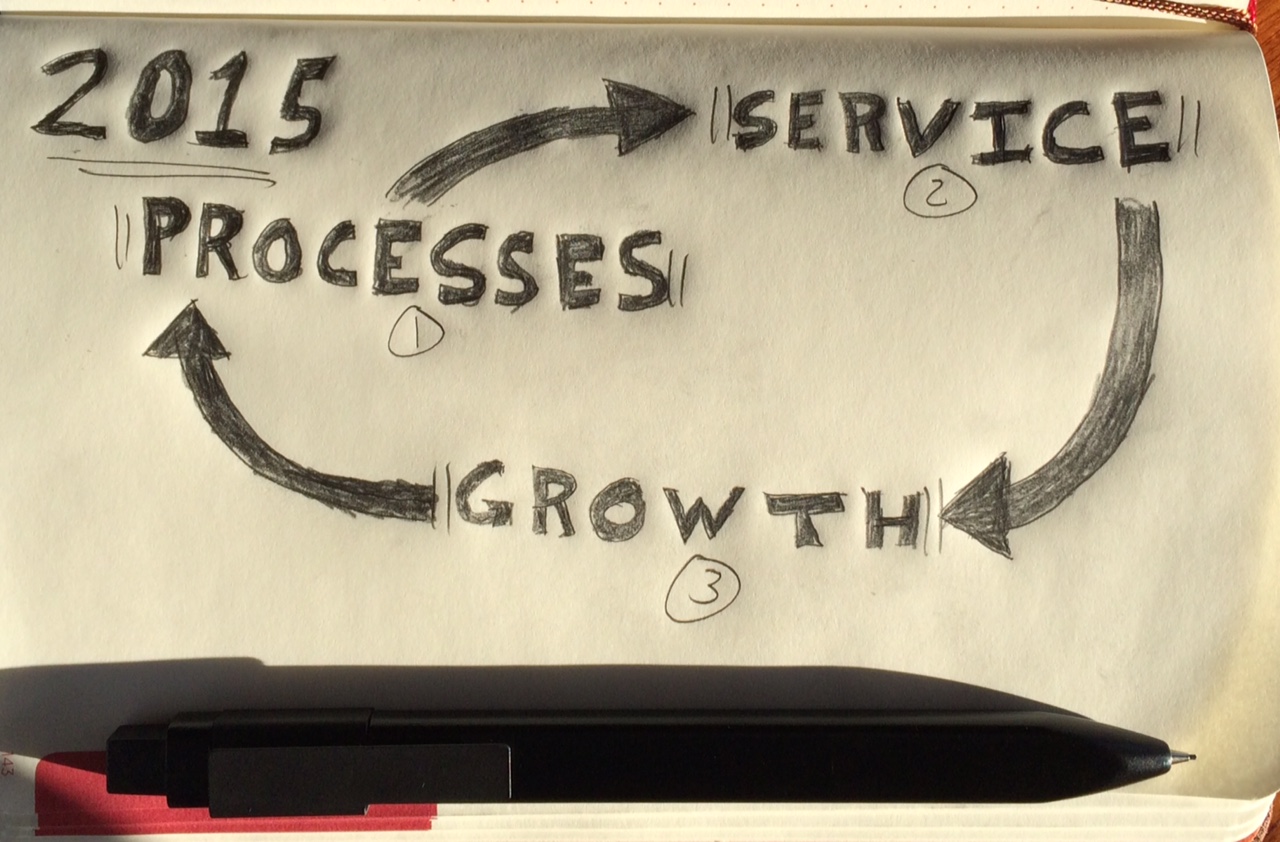 Over the last several years, I've been sharing my annual plan for business success for the coming year. I start by choosing three words that define where I want to be 12 months from now. Then I turn those words into a visual map; which is the image I've included with this post.
Before I get further, it's important to give credit where credit is due. The three words concept comes from my friend Chris Brogan, who has been sharing his three words since 2006. The visualization of those three words is a form of Skecthnotes that I learned from my friend Mike Rohde.
It's been an enlightening journey taking the ideas and thoughts of these two brilliant gentlemen and turning that into something that is uniquely me. Knowledge is great but knowledge applied is awesome and powerful.
Choosing this year's words
This year the process of choosing my three words felt different than in previous years. This year I feel like the three words found me.
In past years, I'd sit with previous visual maps and assess how well I've honored them and grown by having created them. This year I didn't look at my previous work.
While taking a walk, the three words just popped into my head and I began to build the visual map. I also wrote much of this post in my head as I walked. It's been about a week since that walk and I've become even more comfortable that these are the words that together create the lighthouse that will guide my decisions and actions in 2015.
Why these three words?
First, I want to break down what each of the three words means to me and then explain how they fit together to build a business and personal plan for the next year.
Processes – Everything that makes a business successful can be defined and documented as a process. There is a process for tracking sales leads as they become prospects and then customers. There is a process for properly accepting a customer's order, fulfilling it and then invoicing for that order. There is a process for dealing with a dissatisfied customer and making sure they end up being a satisfied customer again. If documented, these processes allow you to be more efficient regardless if you are a solopreneur or a growing business with a team. Also, documenting and constantly improving these processes allows you to scale and grow your business with less effort.
Service – Providing great service to your customers and those you wish to become customers requires you to become a servant to their needs. Think about the businesses and people with whom you would like to be associated. All of them probably have a common denominator of serving you at a higher level. I tend to frequent restaurants that have the best service even if their food is not the very best. I'd much prefer to spend my time and money with folks who provide the very best service.
Growth – Measured and managed growth of business is always a sound goal. Personal growth is also a great place to focus energy over the next year. I plan to grow my business with improved processes and service; but I also plan to grow personally with the same combination. I will be a better servant to those I work and live with by better organizing my life and my business.
Taking care of myself first this year
I'm also going to approach this year a bit differently by focusing first on my personal development and growth before my business. Sometimes I forget that no matter how tightly linked my personal and professional lives are, there is a line between them somewhere. I plan to look more closely at that line and respect it more as well.
I've tried all work and no play; but that makes for a very intense and sometimes crabby me. I've also gone to the other extreme which has had a negative impact on business. I won't be looking for a balance between the two because I have found that's an excuse for taking time off that perhaps I shouldn't be. Instead I'm going to be in search of the line where work stops and personal life, growth and development begins.
Bringing it all together
The visual map I've included with this post is a cycle that clearly starts with processes. In business, they are those day-to-day activities that are the best and most efficient ways leading to success. In my personal life, these are the habits I develop that make my life easier and less stressful.
Taking the time for service pays dividends far and above the amount of time you put in. It means putting others before yourself once you've taken care of yourself. If you have some needs that aren't being met, then you'd best address those needs first or you'll eventually implode (or worse yet explode) while you try to help and serve others. That's why I put processes before service – because you need to create an environment in which you can successfully serve others without feeling like you're short changing yourself.
Afterwards, you can focus on growing as a person and growing your business. Although if you've done a good job on the processes and the service aspects of the plan, the growth will be more of a byproduct than a step in the cycle. The tricky part is knowing when the process and service models have maxed out the growth. Then you can look at existing processes and potentially new ones to take service and growth to the next level.
That's my plan for 2015 and I'm sticking to it.
If you've got a plan for 2015, I'd love to hear about it in the comments below.