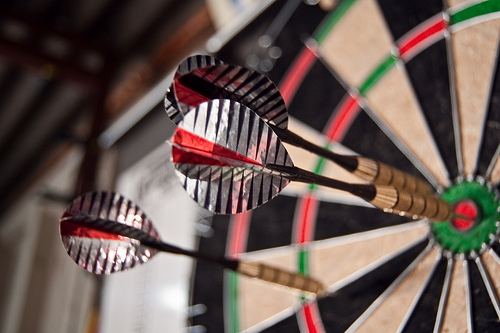 What are you best at? If you are having trouble answering that question, your lack of an answer is holding you back from your ultimate level of success. Worse yet, if your answer is "multi-tasking," then you're quite likely a jack of all trades and a master of none. You're a handyman of sorts; not a highly sought after architect of amazing buildings. I'm in the process of determining the one thing I do best.
Zero out nonessential tasks in your life
A couple of years ago, I spent hours each day performing the same tasks that either didn't need to be performed or could have been automated or outsourced. I suggest doing this first because you're going to need some time – lots of time – to contemplate and figure out what you do best.
Search for your bullseye
When you've completed the zero out project, you'll find that each day is consumed by a half dozen or fewer tasks. One of those tasks is likely what you do best. There are a couple of ways to sort this list to discover which tasks are closest to your personal bullseye. I started by looking for the tasks that generated the most revenue for our businesses. The tasks I identified were sales and marketing.
Now maybe those seem like the obvious tasks to generate revenue, but really it was just a starting point. It turned out that while those darts were close to the bullseye, they were not dead center. I'm now in the process of analyzing the rest of the list for the tasks that provide me with the most fulfillment and sense of gratification when I'm doing the work associated with them. When you're doing them, the tasks don't feel like work at all. You're having fun and time is flying.
Find your bullseye
What I determined about sales and marketing is that I'm good at it. The job I do is passable and has allowed us to stay in business for 17 years. There are salespeople that are head and shoulders better than me at selling.
On the other hand, when I look at my knowledge of business and its application to building products, services and even new businesses, I'm at the top of the class. I'll put my knowledge, skills and abilities in that category up against anyone. Even better, when I'm doing the strategic thinking and team building that goes along with building stuff, time flies by and it seldom feels like work.
Earlier I wrote that I picked sales and marketing because it generates the most revenue. I was wrong about that. Folks pay me for the strategic planning and team building skills I bring to a project. What are folks really paying you to do? Figure that out and you'll find your personal bullseye.