It's the opposite of what you think, we are going to tweet….a lot. Tight budgets, saving money, kids in college, etc. have combined to create our Twitter vacation.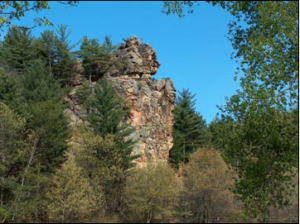 Roots of the idea. We (@hawtwife and I) decided to be fiscally responsible (unlike our village who is replacing roads unnecessarily but that's another story) and cancel our week long odyssey to Gatlinburg and the Smoky Mountains. It was a tough call because our family loves that place.
What's a Twitter Vacation? Well, basically we are going to do as many things Twitter as we can in one week and tweet about it. It's a pretty fair guess my blog posts will be very Twitter vacation centric for the next week as well.
There's not much of a plan. I know Monday night we will attend a Linchpin meet-up. Tuesday we are going to hang with the cool gang at @Translatorxd lab hours. That's not much of a vacation for me, because I go anyway, but never with my lovely wife. Wednesday and Thursday will probably find us in the Madison, WI area for some hiking at a few of our great state parks (picture is from Governor Dodge State Park). Who knows we might even get to see our friend @StacySnook.
I'm going to Cheat the Clock. Seth Godin presented a challenge of working less for a week. I'm going to use my Twitter vacation to work no more than five hours in any day until a week from Monday. If you know me this will be a near impossibility. Well, really it's what I often do on vacation. Set aside some time each day to get work done. That time is finite and doesn't run from "open eyes" to "close eyes" time as my normal work week does.
So, if you want to vacation vicariously through me next week keep an eye on my Twitter vacation stream @raffel.