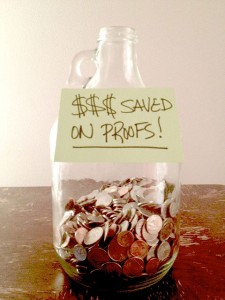 Today's post on the ColorMetrix blog was repurposed from a 2007 post that first appeared here. There is one significant difference: The re-purposed post on ColorMetrix has a picture accompanying it that Shelby Sapusek spent about 30 minutes staging. She's damn creative in the visual arts and that image (which I've also included with this post) is powerful for the target audience. It was so powerful that I picked up the phone to call her about it before I even read the heavily edited post.
What makes an image powerful?
It relates to the post with which it's published. In the case of Shelby's image, the post on ColorMetrix.com is entitled "How to stop printing bad proofs" and right below that headline is a jar full of change with a sign stuck to it "$$$ Saved on Proofs!" As a reader, I can infer that not only will I learn how to stop making bad proofs, but I'll save money doing it.
It speaks to the reader. Who among us hasn't had a jar for spare change? There also is the surprise when you take that jar in and the little bits of change you've emptied into it each day add up to $50 or $100. This could tell the reader that what the article will present is not a quick fix solution, but it's going to work over time.
When it matters, own the image. On your personal blog, creative commons images from Flickr and other sources are fine. On a company site, it is preferable to own the image. It's worth 30 minutes of Shelby's time to have our own image created specifically for this purpose. Sure, our competitors can "copy" the idea. What they can't do is use the image without our permission, which we'd be fools to grant.
Google will like you more. There are plenty of articles, such as "Feeling Sandboxed? How You Can Get 53% More Searches with One Tweak," that have been published to substantiate this premise. If you include a properly tagged image, it will improve your search results with Google. Lots of people use Google to search for images and will find your post by finding the images.
And here's the granddaddy of them all … The image makes the reader/site visitor want to read the post. It's one thing to get them to the site; it's quite another to get them to actually read the post. A good headline  paired with a strong image will increase the likelihood your site visitor will turn into a reader.
So, there you have it: Five good reasons to spend some time including appropriate images with all your blog posts.