If you are headed to either SGIA or BlogWorld this week in Las Vegas hopefully we will run into each other.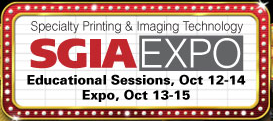 I'll be utilizing the Las Vegas Monorail to travel between the convention center for SGIA and Mandalay Bay for BlogWorld.
Some places we might meet
Between sessions at BlogWorld – I will be attending several of the sessions so, there is a fair chance we could meet in the corridors. All day Thursday I'm attending the business focused sessions and I won't lie, I'm a little giddy about attending these.
Scott Stratten's UnTweetup – Wednesday evening we could practice moderation together so as not to miss Scott's keynote Thursday morning!
SGIA show floor – Most of Friday I'll shift focus to SGIA and while I have meetings to attend, I hope to find some time to walk the floor for a bit.
Social events – Both Thursday and Friday night I plan to attend the official BlogWorld parties for at least a little while. Perhaps we could converse over an adult beverage of some sort.
You get the idea, I'm looking forward to meeting you and hope we run into each other. If you would like to meet for business purposes please contact me and let's find a time and place that works for both of us.