The idea to make the move online is such a basic strategy it begs to be a 101 topic. The quandary lies in the fact that moving a traditional offline business on-line turns out to be 201 and 301 subject matter. There will be hard work and pain involved, I promise.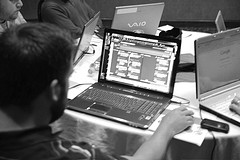 Moving online should work with and add to your existing off-line user experience. Over a several year period, but mostly in the last year I've made it easier and easier for ColorMetrix customer to do business with us online. Everything from obtaining pre-sale information, purchasing products and services, and obtaining technical support. Blending of the online and offline user experience is a journey not a destination. So, we will never be all the way there, and our customers will always know they can always reach out to a live human being when they feel the need to.
Online is gorilla marketing on steroids. Gorilla Marketing is all about your time and energy used in unique and inventive ways to let the world know you exist. If ever there was a tool for small business to compete against the big guys with huge marketing budgets, online is it. Think of on-line as fishing and your net is the great sticky content you create on a regular basis. The more content you create the bigger your net becomes. The net will draw people to your site, and then your challenge becomes offering an easy to navigate site for tasks like purchasing and tech support.
Online done correctly becomes a revenue engine. Start by writing great sticky content. Then, focus on building a site based upon sound experiential design principles. With those two steps complete add the micro marketing campaigns discussed earlier this week to the mix and you have a revenue generating machine. Like all machines it requires regular maintenance. This is not a "set it and forget it" get rich quick scheme. This is a real, authentic and sustainable business model.
The engine will be capable of generating revenue 24/7 365 even while you sleep. Remember, however, that their is a human being on the other end of the transaction. Thank them for their business often with personalized thank you cards you can create with on-line services like SendOutCards (affiliate link). Provide a phone number where they can reach another human being when they are having problems. Nothing frustrates a person more than an automated response to a problem they are having with your product.
This post wraps up the week of Marketing 101. If this is your first time visiting or you just don't want to miss a post in the future, please consider subscribing via email to receive each post daily.
Photo Credit: Streetza