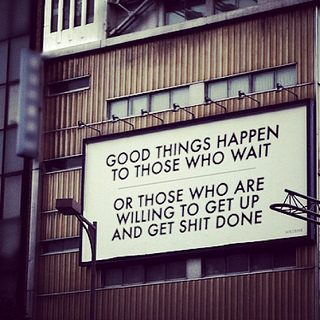 Starting new projects, building new teams and getting shit started all sit on the fun side of the business equation. Getting shit done, however, is not about getting it started. It's about seeing it through to completion and, for most entrepreneurial types, that is not fun.
Shut up and do the hard work
Leave the excuses at home. Nobody except you cares. Take a look at the projects and commitments currently in front of you and figure out which ones need to be completed and which ones need to be let go. Then set aside new projects and new ideas for awhile so that you can finish what you've started.
The tricky part is figuring out what needs to be finished. Some of what you've started you need to stop doing. Over the years, there have been more than a few web startups that I either helped shut down or walked away from. In order for a sense of urgency to work for you, there simply can't be too much on your plate.
Picking what to finish
There is a saying that if you want something done, give it to a busy person. I think that's wrong. Instead you need to give it to a person who knows how to say no. That's because a person who knows how to say no won't offer to help with your project unless they plan on seeing it through to completion.
Try this: Next time an opportunity presents itself, ask yourself this simple question: "If I say yes and get involved with this project, will I see this through to completion no matter what?" If you can't answer yes, then it's better to say no and not get involved in the project to begin with. Time is your most finite resource. It's more valuable than all the money you will ever have. Time frittered away can never be recaptured.
Get the shit you start done
Success is measured by the finish lines you cross not the races you start. This is real life; participation ribbons get you nothing. Take that sense of urgency that gnaws away at you day and night and use it to pick projects currently on your plate to finish. Then when your plate is empty or close to it, look for some new opportunities to start on. Learn to say "no," a lot. The more you say "no," the more meaning your "yes" will grow to have. And when you say "yes," know that it means you won't quit no matter what. That's how to get shit done.