A self service customer portal should enable both the customer and the service provider to have a better customer service experience. Recently I've written about Time Warner Cable's customer (dis)service (in my opinion) and Sprint's exceptional customer service. Today I want to share my experience signing up for Medical College of Wisconsin's (MCW) MyChart online portal for patients.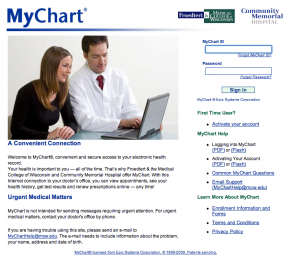 Circling back to Sprint for a second. I've had mobile device service with Sprint forever (or at least it feels that way). As management struggles to reinvent Sprint, I will tell you they have totally succeeded on the customer service front. You get answers and solutions in the store, on the phone or visiting the on-line self-service portal. The Sprint portal didn't start out that way but today I can change my service, add features, buy a new phone and do almost any task related to my account 24/7/365. Sprint wins by being able to focus their "live" customer service teams on the hard to solve non-standard problems. I win by having quick and easy access to everyday account functions when I need it. This is as it should be, in my opinion.
At a recent Doctor visit. As I was wrapping up my recent annual physical, the nurse asked if I had a MyChart account to review test results or if they should mail them. The tech geek in me immediately asked for more information on MyChart. As you might expect with medical records I was provided a pile of carbonless forms to complete. It wasn't that bad and took less than ten minutes start to finish. When done I was provided a unique code to use for my online signup from home.
Back at home. I had my account for MyChart setup in a few more minutes. While I can't access my entire chart I do have access to many details I often wonder about. All my test results are stored and I can even chart things like my cholesterol numbers over time. Other useful features include the ability to schedule my own appointments and send private non-urgent messages/questions to my doctor or nurse. I can even request prescription refills.
My Doctor and her office's perspective. Patients get information like test results almost as soon as the doctor electronically releases them, thus reducing calls asking for results. I can take my time looking at the available appointments and not tie up a receptionist who could otherwise be helping a patient with an urgent need at the clinic counter. My doctor and her staff get to practice anywhen with non-urgent medical questions from patients. This is a solution that truly seems to help all parties involved in the transactions.
Any examples of online customer service portals that you think work this well that you'd like to share?