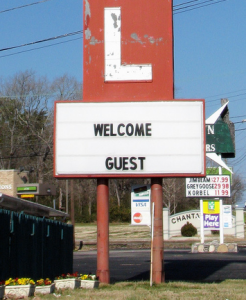 Exchanging posts with a fellow blogger will increase and diversify site traffic for both of you. The intellectual conversations that take place in the comments of both blogs will take on a different flavor as well.
One brain only goes so far. Reading this blog each day gets you my perspective on the topics I write on. It also gets you the perspective of those generous enough to take the time effort to leave a comment. A coordinated cross guest post like Randy Murry and I have done gets you a entirely different perspective on the same topic.
Exchanging posts has changed my publication style. Over the course of several months Randy and I have conversed about my winging it compared to his carefully planned and written a week ahead of time publication style. I now write each week Monday through Friday with a theme like this week's Blogging 101. As a result I have most of the post planned out in my Moleskine notebook well before the week begins.
The comments are different too. I look at the comments on Randy's guest post and in addition to high number of comments for this blog the tone is somewhat different. By reading what those who comment frequently on this blog have added to Randy's post I get a sense that they respond to the guest author differently. I've got a friendly group of commenters here so, perhaps it's just that they are not as familiar with Randy yet.
There is no rush for guest posts. I think I have had two or three guest posts on this blog in five years. While I'd love to accept one or two a month going forward I'm in no rush and have no quota to hit. In my case, this blog has my name in the masthead and as a result I suspect you come here expecting mostly my writing. I have no plans to change that. I would, however, welcome your submissions for guest post consideration.
What are your thoughts on guest posts and would you be interested in contributing to this blog?
Since this is Blogging 101 week. I wanted to let you know I will be at BlogWorld Expo (affiliate link) in October. The early bird registration ends 7/15/2010 and with the code "EBIRD" you can save an additional 20% off the already low early bird prices. This is as inexpensive as BlogWorld will get and if you are thinking about going I urge you to register today before the 15th comes and goes.
Tomorrow I will share my thoughts about why I attend social media centric conferences. Make sure to stop back or subscribe via RSS so you never miss a post.
Photo Credit: http://www.flickr.com/photos/brent_nashville