This week I will be providing more information about the MacDermid Printing Solutions Stabil-X press trial April 17th and 18th . This week I will review the variation data from two of the trial conditions:
STX opt – Stabil-X blanket run at optimum packing level
Press std – The set-up of the press when we arrived
The TVI graph from last week showed the mean 50% dot gain for the STX opt. to be 24.817 and the Press std. to be 25.556. In addition to the lower overall dot gain with the Stabil-X, the standard deviation of the Stabil-X opt. was only .752 compared with 1.088.
The density of the two runs are very similar as well as the associated standard deviations: STX opt. 1.489 and .018; Press std. 1.522 and .016.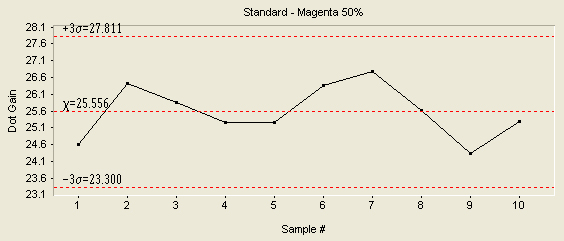 These two graphs plot each of the 10 samples measured for each trial condition. The graphs also show the mean as well as 3 standard deviation +/- control lines.
If you would like more information about the MacDermid Stabil-X blanket, please contact me and I will put you in touch with the right people at MacDermid.