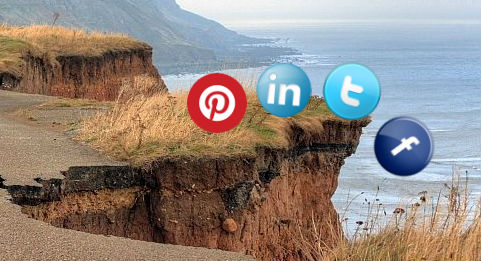 The always on, digitally connected world can become overwhelming at times. Recent current events pushed me over the social media cliff and I needed to unplug for awhile. It's not simply social media that can become too much; but also constant access to news and other information. Sometimes, it's just time to unplug and reevaluate before returning. This is my story of doing just that.
The social media meltdown
A recent current event dominating the 24-hour cycle spilled over into my social media stream. I found friends on both sides of the issue arguing, gloating, name calling and, in general, not acting very much like friends. I found myself becoming angry; and unfollowing and unfriending people I'd consider friends in any other circumstance. Fortunately, I caught myself before things had gone too far and took a less nuclear approach.
Within minutes I deleted all the social media apps from my iPhone (that included three apps for Twitter, Facebook, Instagram, Google+, Pinterest, LinkedIn, and a few others). I then vowed to stay away from social media until I had calmed down and was ready to climb back up the cliff. After 36 hours, I began a slow return with a new strategy guiding my social media usage.
The silver lining in the meltdown
I decided that by making a few changes in how I use social media, I could accomplish two goals. First, I could find the fun that social media had been for me a few years ago as I built a new circle of personal and professional friends. Second, I could increase the effectiveness of social media for the marketing and promotion of my businesses.
Social media strategies need to be dynamic
Since social media and the entire digital world change rapidly, it only makes sense then that you need a strategy that is more dynamic than static.
Like any other task, social media should be done with focus. No more multi-tasking. When I have the time for social media, I will take a break and engage and enjoy for whatever period of time I have available. When my attention is needed elsewhere, I will shut down social media. Single-tasking is my overall goal right now and social media will be no exception.
I'll be completely avoiding the issue (topic) that drove me over the social media cliff. I just won't go there, and more importantly, friends who go there too much or too aggressively will be filtered from my social media streams. It doesn't really matter what the topic was for me. I'm sure you have topics that pop up in your stream and you'd rather not see or deal with too.
Facebook just isn't for me. The more I look at Facebook the more I realize it really is a high school re-do. I didn't like it then and I like it even less now. While I'm not planning to close the account it will be slowly reduced to about 100 friends and I'll seldom post. It will become a place I keep up with family and close friends.
Finally, I've tuned out "the news" for a period of time. Sure, I check out newspaper headlines or occasionally flip on the TV while exercising or doing other things but I'm no longer a news junky. I've decided those wasted hours can go back into running my businesses more effectively. You might choose to use those hours to pursue your hobby or a exercise regime.
The tricky part will be to revisit this strategy regularly and figure out it's not working before I find myself going over the social media cliff again.

Do you have a plan when social media becomes overwhelming? If so, why not jump in the comments and let me know what your strategy is to deal with social media overload?