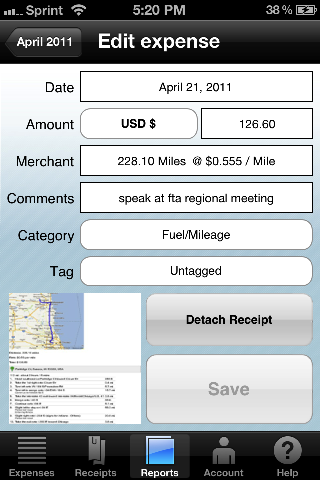 Up until yesterday there was something I hated almost as much as going to the dentist: Completing my monthly expense reports. I disliked it so much that each year I'd start out keeping up and by December I'd be at least six months behind. Yesterday, all that changed when I discovered Expensify.
The search for Expensify
In January of 2011 when I found myself in exactly the same place as yesterday, I searched for an Android app that would do essentially what Expensify does. I tired out a few and couldn't find one that had good user experience and a reasonable price. Yesterday on my iPhone 4S, I went to the App Store and searched for "Expense Reports." The third or fourth entry down the page was Expensify, listing a price of free. I read some of the reviews and it looked darn promising. (Before you Android fans start screaming, yes there is an Android version as well but I can't speak to its functionality.)
The Expensify iPhone app is an extension of the web-based service. So I started out on the website and liked what I saw. The site has good user experience and I confirmed that for an individual like me the service is virtually free. The only part of the service that costs money is their automated scanning of receipts from an image you capture with your iPhone or scanner. After the first 10 scans each month, the cost is 20 cents per scan.
The features that rock the most
Automated receipt scanning – Hands down, this is the best receipt scanning software I have ever used. Some of my receipts are 6 months old and have faded. On a few of them, I had written the tip amount but not totaled it on my copy. Expensify was able to read my chicken-scratch handwriting and even totaled the receipt correctly. Of the 25 or so receipts I scanned yesterday, only one did not scan completely. For that one, I just filled in the couple items it had trouble catching. With Expensify, when the clerk hands you a receipt, you can just scan it with the iPhone app and throw it away. There's no more paper to lug back to the office.
Map-based mileage calculations – Keeping track of mileage can be a real headache. However, the Expensify web interface makes it easy. Just enter all the addresses you visited in one day and the app will calculate the distance for you. You even have the option of creating a map-based receipt to archive. If you already know the distance of a trip, you can enter the miles without having to go through the map interface. So far, my one negative on Expensify is that you can't track mileage on the iPhone app. Hopefully, I just have not figured it out yet or it's a feature that is coming.
The expense report – It's a true work of art with a financial summary page, thumbnails of the receipts and high-resolution images of the receipts. I plan to store each report in the cloud and shred all the receipts. Should I ever face an audit I'll simply email or print and send the reports requested to the IRS.
There is so much more
I've used the app for about 6 hours today and have just scratched the surface. For organizations and enterprises, there are many advanced features, such as integration with Freshbooks, QuickBooks and probably more. There is the ability to route a report for approval and then payment. Google apps integration is available for $5 per user submitting reports each month.
Here's the features page so you can figure out for yourself if Expensify will help you organize your business and personal expenses.
Authors Note: I have no affiliate relationship with Expensify. I was not asked to review them. I wrote this based on my own personal experience.