Since writing How I doubled my htc EVO battery life – Part 1, I've learned a few more things about maximizing the life of the Seidio Innocell 1750 mAh Slim Extended Life Battery for HTC EVO 4G (affiliate link) I chose to replace my factory battery. If you have not read the post mentioned above, I recommend you start there. The three sections below explain in greater detail what I covered in that post and share ideas I've learned since then.
Accurate battery level
The image to the left is the expanded view of the htc Battery life widget. This widget puts detailed battery information a fingertip touch away. Here is how I installed the widget:
I held my fingertip on the home screen of the EVO.
When the  'Add to Home' screen appeared I selected 'Widget.'
At the top of the 'Add Widget' screen is an option to 'Get more HTC widgets,' I selected this.
Finally, the first option on the 'Get more HTC widgets' screen should be the 'Battery' widget which I selected.
Now, I have easy access to detailed information about my htc EVO battery right from my home screen as shown in the image to the right.
Disable "Mobile Networks Always On"
I made brief mention of this setting in the previous post but have since learned how important it can be when traveling. When at home, I pretty much run on Wi-Fi but when traveling I end up on mobile networks all day. That's when this setting can make all the difference in the world to EVO battery life.  Here are step-by-step instructions with images to make sure you get this setting right.
1. Press the 'Menu' button on your phone and then select the 'settings' option as shown below.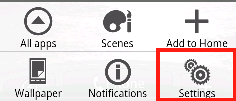 2. Select 'Wireless Networks' as shown below.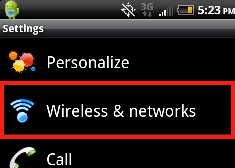 3. Scroll down to find and then select the 'Mobile networks' option as shown below.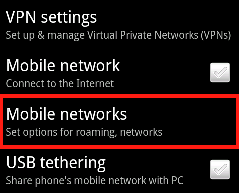 4. Make sure 'Enable always-on mobile' is not checked as shown below.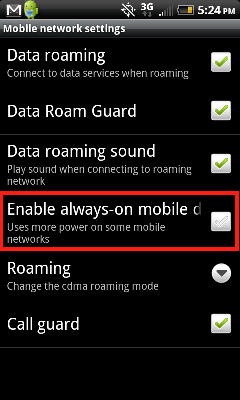 The only warnings I have been able to find about this setting indicate that you may have to manually refresh applications that access services like Facebook and Twitter. That's fine with me because I like to use these apps when it's convenient for me and typically have all notifications turned off.
Advanced task killer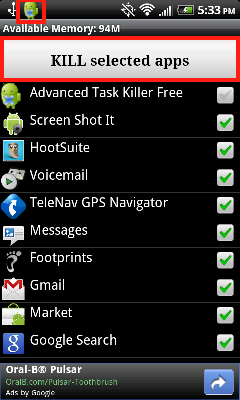 Speaking of apps to access Twitter and Facebook, I learned about this free application from Chris Brogan. Perhaps you've noticed your social media apps sometimes seem to get hung up querying for updates. When this happens to me now, I just use Advanced Task Killer to kill everything that is running. I figure an app that is hung up has to be chewing away at my battery.
A neat feature of this app is that it loads an icon in the status bar at the top of the screen so it can be easily accessed at anytime with the swipe of a finger.
Then, it's a snap to 'Kill selected apps.' By default, all apps are checked but you can uncheck any you are concerned could be adversely affected by being killed.
Wrapping it all up
While all these tips will increase the life of any htc EVO battery, I still highly recommend the Seidio Innocell 1750 mAh Slim Extended Life Battery for HTC EVO 4G. I've owned the battery for over a month now and consistently get 12-16 hours of life from a single charge. This includes time on the road when I am running almost exclusively on mobile networks.
Make sure to check out How I doubled my htc EVO battery life – Part 3 for even more battery life extending tips!