Recently, my company ColorMetrix participated in round one of the Social Madness contest run by the Business Journals from around the country. We didn't move past round one, yet our participation still resulted in winning site traffic numbers and Twitter follower growth.
The back story
When Shelby approached me about participating in the Social Madness contest, I was skeptical. I didn't want to be one of those brands/people begging "pick me," "vote for me" or "can you help a brother out?" Begging for votes is not engagement. Shelby immediately put my fears to rest by insisting we would not do it that way. Instead she wanted to create a content campaign that we could share across all of our social media networks.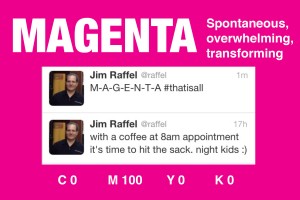 The 18 Days of Color through Social Madness campaign was born. In a nutshell, Shelby created an image like the one for magenta above and then wrote a short blog post explaining how she selected the color and provided interesting background information. Then for 18 days straight, a new color post appeared on the ColorMetrix blog and was shared out to several networks: Twitter, Pinterest, Facebook, LinkedIn and Google+. Instead of asking for votes on those networks, we asked for help getting votes in the blog post but only after we had provided interesting and valuable content to those that are interested in color and color theory.
The results
The image at the beginning of this post shares our Google Analytics data from June 1 to 18 and the 18 days prior to that. I am not an analytics expert but there is not a number on that page I do not like. We increased the time folks spent on our site by almost 80 percent or more than 30 seconds. to me that means people came and read the posts. The content held their interest. We increased page views by 19 percent but visits by only 8 percent, so the folks that came looked at more than just the color of the day post.
…and on Twitter – The Twitter Counter graph above shows that we added about 40 followers to our Twitter account in that same time frame. A review of our followers will show you that most are in the graphic arts industry we serve. These are not just random auto bot follows. That's because Shelby (who also manages the Twitter account) does not just automatically follow back. That, however, is an entire post of its own.
The facts speak for creating content to drive action. For a company of our size, these are big numbers. It worked because we focused on the fact that it was a campaign and we wanted results. The contest was just the catalyst that launched the campaign. While we didn't move on to round two, we did finish in the top half of companies our size in our market. That's not bad considering we avoided begging for votes.
Never miss another post!
I publish new content about the strategies I utilize to grow business online with social media engagement via story telling. Make sure to never miss another article by signing up for updates delivered to either your inbox or RSS feed.
Sign Up For Email Delivery

This site runs on the Thesis Theme
Thesis has so many design options, you can use the template over and over and never have it look like the same site. Learn more about Thesis by visiting their Plans & Pricing page.